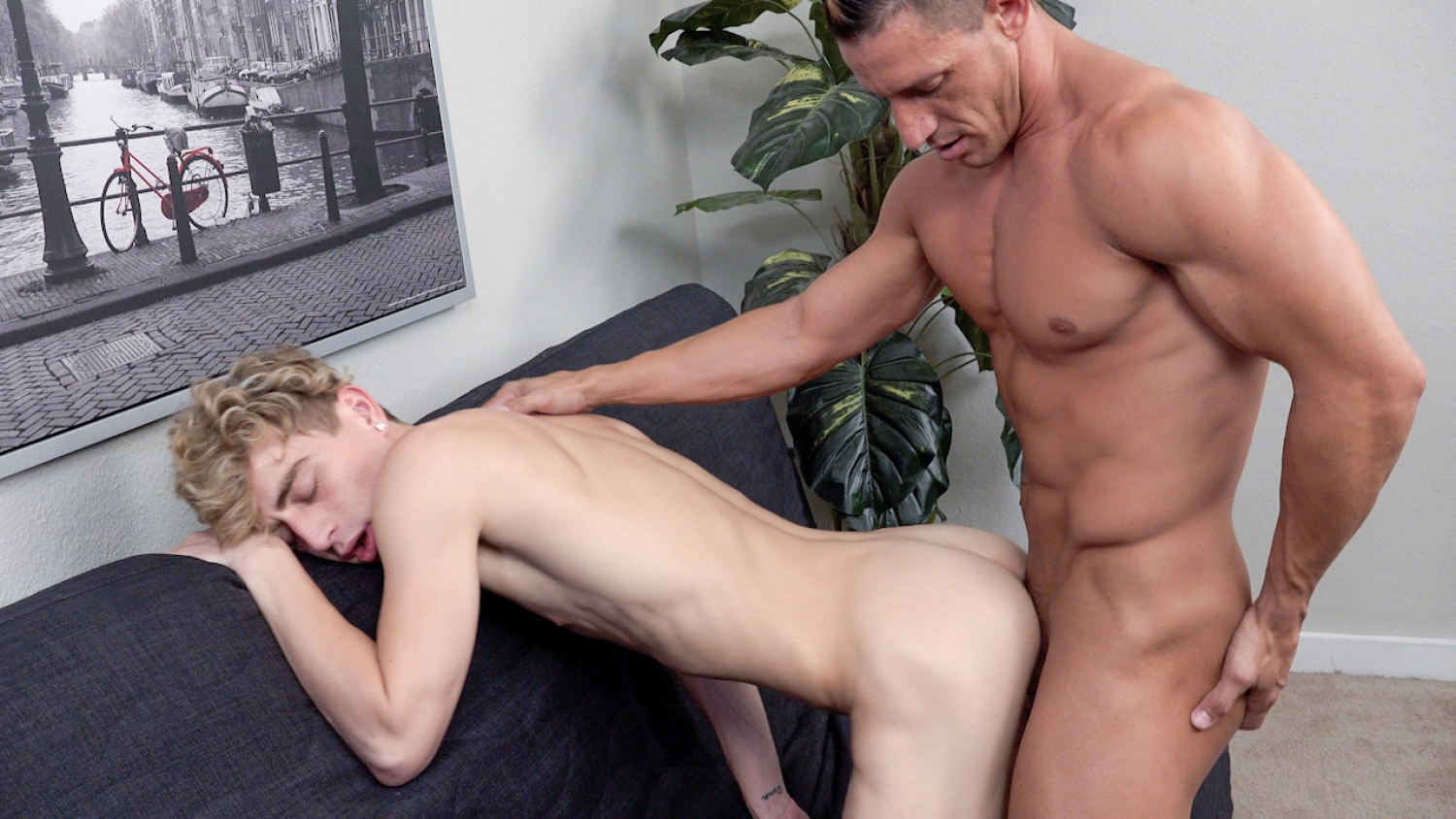 Jax Thirio & Jesse Bolton BAREBACK in Atlanta Chapter 3
Jesse Bolton and Jax Thirio return for another horny encounter in the latest film from Jason Sparks. The chemistry is instantly off-the-charts as the two men lie topless on a couch, kissing passionately. Jax is the older and more dominant of the two with a tanned, chiseled body, while cute twink boy Jesse is pale-skinned with blond curly hair.
Jax is dressed ...
Read more
Jax is dressed in a pair of red, skin-hugging boxer trunks which show off his beautiful, ever-growing bulge and cling to his muscular thighs like a second layer of skin. Jesse is soon whimpering and moaning, desperate to move things to the next level.
The young boy is soon down between Jax' legs sucking and choking on the older man's giant dick while looking up at his new master with innocent, puppy-dog eyes. He sucks real good. Jax, in a state of growing ecstasy, whispers sleazy words of encouragement.
Jax then returns the favor and gives Jesse the blow job of his life, using his talented tongue to tease the tip of the younger boy's rock solid tool.
Jesse squats on all fours and leans against the back of the couch while the older man makes sure the boy's tight hole is lubricated and ready for daddy. Jax is soon thrusting his 8-inch power tool in and out of the boy's beautifully-smooth ass, stretching him wide open and making him gasp.
The couch squeaks and rattles as Jax ups the pace and depth of his strokes. Jesse literally feels like he's being torn apart but the feeling is so amazingly intense, he doesn't want it to stop.
Jax sticks his dick back into Jesse's mouth, pushing it as deep into his throat as the trembling boy can manage. The older man then pulls out and explodes all over Jess' face. Beads of cum spray everywhere, seeping into the boy's nostrils and rolling into his eyes. Jesse follows suit rapidly. He's lying on his back but the arcs of semen fly all the way up to his face, melding with the enormous load deposited by Jax.